SFC Scent of Ocean 1-530 ISO telescopic float fishing rod
SFC Scent of Ocean 1-530 ISO telescopic float fishing rod
A great performing telescopic long rod perfect for float fishing.
Click on the above picture to see these rods in action on YouTube!

SF Net 1-530 5.3m Long Telescopic Fishing Rod

What Clients have said…
" Have used many leading brands and thought I would give SFnet a go I am very impressed with the quality of manufacture right down to the smallest detail, the performance is up there with the best of the best,
I will definitely be using SF Net in the future." - projectm12
see full technical specifications below pictures….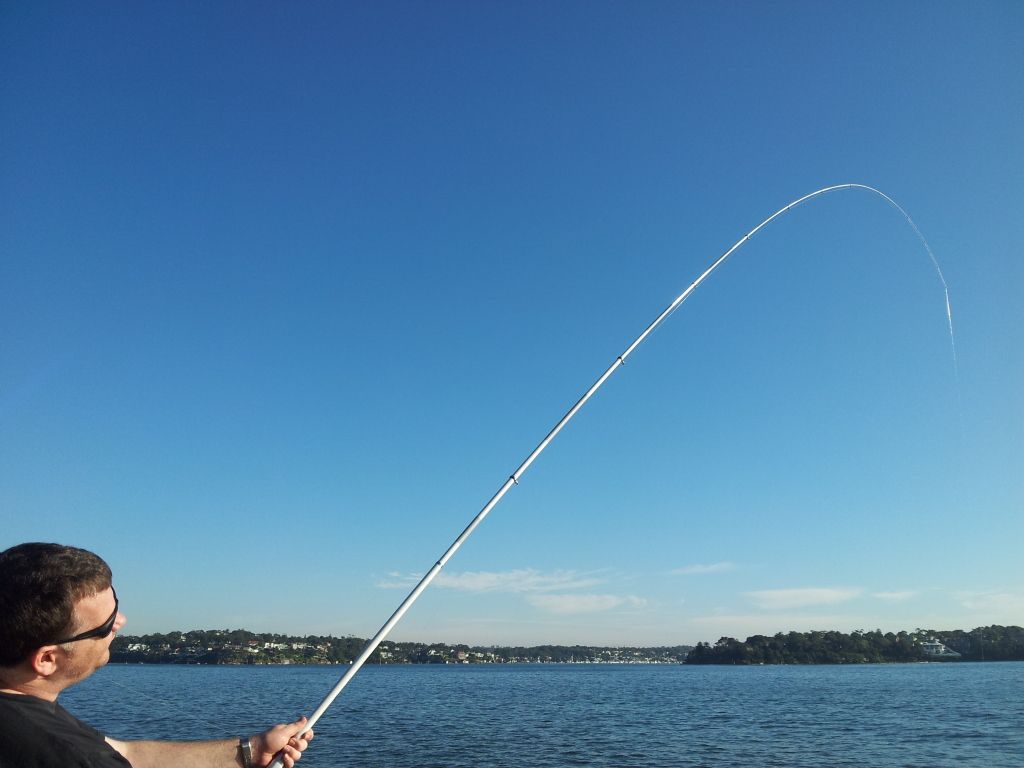 Suitable for ISO fishing

This is the next generation of telescopic rods. Gone are the days when the guides would fall off the blank within a month of usage. So too are the days when the sections would get stuck because your mate borrowed it and jammed the rod too tightly together.

On top of this telescopic rods until now have had dismal actions. With this series of rods, those problems are a thing of the past!
Use it to fish for luderick, bream and drummer from the ocean rocks (size 2-3) or garfish, yellowtail scad, tommy ruff, trevally and mullet from the jetty (size 1-2).
For freshwater anglers, this rod would be ideal for carp fishing, where a long rod is necessary to clear tall grass and rushes.
Using one of these rods for myself; I have been impressed with their actions, light weight, portability, strength and responsiveness. No bite is too small to be detected. Its length allows you to steer fish away from structures and also keeps your line up out of the water free from snags.
I have even seen people landing rat kingfish and drummer with these rods. Setting up the rod is an easy 1 minute job. Unlike conventional telescopic rods, the guides are actually designed to slide up and down the blank.
The action is quite fast when playing the smaller sized fish and becomes softer when fish over 500 grams are hooked. The whole rod collapses down to a length of only 1.2m so you will have no problem packing it into the boot of your car, or likewise, taking it on an overseas trip.
It is also perfect if you live in an apartment and don't have the space for storing a long rod. All rods come with a high quality polyester rod bag with zipper, a shield for guide protection and a tag to thread the line through the guides in one go.
Length (fully extended): 5.3 m

Length (contracted): 1.2 m
Number of sections: 5
Material: graphite carbon composite
Action: Multiple (fast to medium/slow)
Line rating: 1
Recommended line: 4 to 12lb braid or mono
Reel mount position: 44 cm from butt
Butt Diameter: 20 mm
Weight: 312g (with guide protector)
Colour: white only
Made in Korea
| | | |
| --- | --- | --- |
| Model | Length | Line Rating (lb) |
| 1-430 | 4.3m | 4-12 |
| 1-530 | 5.3m | 4-12 |
| 1.75-430 | 4.3m | 6-15 |
| 1.75-530 | 5.3m | 6-15 |
| 2-430 | 4.3m | 8-20 |
| 2-530 | 5.3m | 8-20 |
| 3-430 | 4.3m | 15-30 |
| 3-530 | 5.3m | 15-30 |
Nb. Line ratings are a guide only.
Important Information
Please note that due to their delicate nature these rods are not designed to lift larger fish (say >600g) out of the water. We recommend the use of a suitable landing net.
A rod rated at say 20lb means that it will be balanced with 20lb line it does not mean it will lift a 20lb fish out of the water.
Yes we can ship to some international locations please send us an email to find out more.